---
HHU Diversity Awards attributed to professor and students
On May 3, 2022, the Diversity Award was presented to Prof. Dr. Wolf B. Frommer, head of the Institute of Molecular Physiology and Alexander von Humboldt Professor, to Esther Seyffarth, research assistant at the Faculty of Phylosophy and doctoral student in General Linguistics, Computational Linguistics, and to students Iman Akboua and Nada Haddou-Temsamani, who jointly head the AStA Women's Department (More here).
A new publication in PLoS Genetics
Researchers from the United States together with our team "Crop yield in Maize" at the Max Planck Institute for Plant Breeding Research in Cologne have now developed a method called "MOA-seq" that can be used to determine all regions of the active genome in a single experiment and at high resolution. Using the crop plant maize, the results are presented in the current issue of the journal PLoS Genetics. (more...)
---
Two grant funding in the Institute for Molecular Physiology
Two of our team leaders, Dr. Manuel Miras from the ERC project and Dr. Thomas Hartwig from the Maize project, have been awarded new grants.
Dr. Miras received the Marie Skłodowska-Curie fund, which is part of the ERC program "Horizon Europe 2021", Dr. Hartwig received DFG funding for a project titled "Functional characterization of cis-regulatory variation underlying trait diversity in maize".
We are very proud of our leaders.
Link:
Marie Skłodowska-Curie Actions
Bundesministrium für Bildung und Forschung : Horizont Europa
---
Key publication in The Plant Cell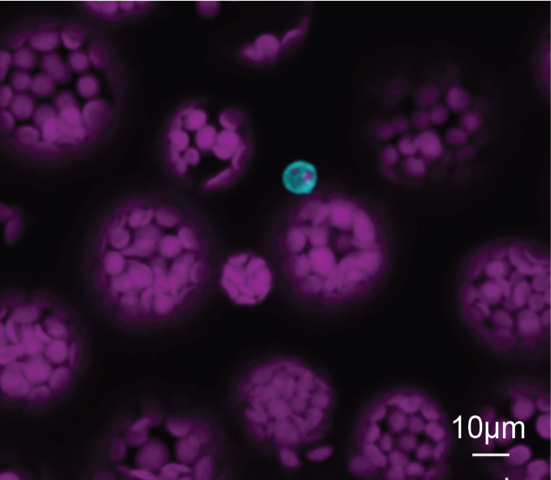 Team transporter has succeeded for the first time in identifying the function of the different cell types in the leaf vascualture of plants.
The leaf vasculature of plants plays a key role in transporting solutes from where they are made – for example from the plant cells driving photosynthesis – to where they are stored or used. Sugars and amino acids are transported from the leaves to the roots and the seeds via the conductive pathways of the phloem.
Phloem is the part of the tissue in vascular plants that comprises the sieve elements – where actual translocation takes place – and the companion cells as well as the phloem parenchyma cells. The leaf veins consist of at least seven distinct cell types, with specific roles in transport, metabolism and signalling. (more...)
---
Congratulation Dr. Bezrutczyk!
The first PHD from IMP, Dr. Margot Bezrutczyk! We have celebrated after her defence via Zoom!
We are sad to see her leaving, but we are sure she will be very successful in her new job. Good luck Dr. Margot!
---
New ERC Synergy Grant to be coordinated at HHU
Prof. Dr. Wolf B. Frommer and Prof.Dr. Rüdiger Simon of Heinrich-Heine-University Düsseldorf (HHU), along with Prof. Dr. Waltraud Schulze (University of Hohenheim) and Prof. Dr. Wolfgang Baumeister (Max Planck Institute for Biochemistry) have received 10 million Euro from the European Research Council (ERC) to fund the "SymPore" project. The mission of this collaborative project is to elucidate the structure and function of the enigmatic cell-cell connections of plants, the so-called plasmodesmata. Link: here HHU-News
---
Komboka Transformation Protocol
Efficient protocol for Agrobacterium-mediated transformation of elite-indica rice variety Komboka established at HHU
Our rice team Van, Melissa and Paula, with strong support from CIAT, Colombia and IRRI, the Philippines, established protocols for transformation of the elite rice variety Komboka, which was specifically bred for Africa. They prepared a very detailed protocol that will hopefully help to extend the approach to many other elite indica varieties. Link : here
---
A new publication in The Plant Cell
Principal Investigator
Alexander von Humboldt Professor

Universitätsstr. 1
40225 Düsseldorf
Building: 26.14
Room: 00.116
Secretary
Building: 26.14
Floor/Room: 00.112
Secretary
Building: 26.14
Floor/Room: 00.112
---
April 2020
Our bachelor student at Team Rice Susanne Vollmer has been awarded a scholarship the German Academic Scholarship.
The German Academic Scholarship Foundation – Studienstiftung des deutschen Volkes – awards scholarships to outstanding students, irrespective of their political, ideological or religious convictions and affiliations. Studienstiftung des deutschen Volkes
---
Joining forces to fighting rice diseases in India
Feb 27, 2020
A large proportion of India's farmers live from growing rice, and 70% of them have farms that average smaller than 0.4 hectares – that's roughly half the size of a football field. Even a single infection can directly endanger their livelihood. Also, in many parts of Asia diseases like bacterial blight in rice are countered by spraying antibiotics and extremely dangerous pesticides that are not approved here in Europe. This means that we urgently need efficient solutions to safeguard the livelihood and the health of the farmers in India.
HHU and ICAR have agreed to carry out joint research and development projects, where HHU will learn from the vast experience of ICAR. In return, HHU will make its knowledge and technology available to ICAR. (more...)
2019 Highly Cited Researchers
Nov 19, 2019
Wolf B Frommer has again been selected 'Highly Cited Researcher' for the Year 2019. clarivate He is grateful to his team which is the force behind this success.
Recognizing the world's most influential researchers of the past decade, demonstrated by the production of multiple highly-cited papers that rank in the top 1% by citations for field and year in Web of Science. (more...)
---
four additional institutions to defeat bacterial rice blight, one of the main challenges for smallholder farmers
Two publicatiuons in Nature Biotechnology
The "Healthy Crops" project, headed by Alexander-von-Humboldt Professor Wolf B. Frommer from Heinrich Heine University Düsseldorf (HHU), has developed a strategy to combat "bacterial leaf blight" (BLB), one of the most devastating rice diseases in large parts of Asia and Africa. BLB has significant impact on small scale producers in low and middle-income countries. The recent extension of the project funding is accompanied by the introduction of new scientific partners, in particular from ICAR institutes in India and IRRI partners from Kenya and the Donald Danforth Plant Science Center. The project's mission is to deliver BLB-resistant rice lines to smallholders in Asia and Africa.
Von: Arne Claussen
Nature Biotechnology volume 37, pages1344–1350(2019)
Nature Biotechnology volume 37, pages1372–1379(2019)
---
2018 Highly Cited Researchers
Prof. W. B. Frommer has been named fifth years in a row (!) as the Highly Cited Researchers by Clarivate Analytics as the world-class researcher.
---
Scientist Dr. Y. Arra: Humboldt Research Fellowship for Postdoctoral Researchers
Dr. Yugander Arra awarded a Humboldt Research Fellowship for Postdoctoral Researchers, is in now IMP member from August 2019.Pressemitteilung der HHU
---
GENOM-EDITIERUNG : Mit diesem Urteil hat die europäische Vernunft ausgedient
---
Tsungming Tu-Award Forschungspreis
Prof. Dr. Wolf B. Frommer, Institut für Molekulare Physiologie, wurde mit dem, für ausländische Wissenschaftler, höchsten Preis Tawains, dem Tsungming Tu-Award geehrt. (mehr)
Biologist Frommer given Tsungming Tu Award (TAIPEI TIMES)
---
2017 Highly Cited Researchers
Prof. W. B. Frommer has been named as the 2017 Highly Cited Researchers by Clarivate Analytics.
Now in it's 4th year, the Highly Cited Researchers list represents some of the world's most influential scientific minds. Selected research ranks among the top 1% most cited works in a specific field and during its year of publication, earning the mark of exceptional impact.
Krankheitserreger beim Reis blockieren
Düsseldorfer Pflanzenforscher von Bill & Melinda Gates Foundation gefördert
Ein internationales Forscherteam aus Deutschland, den USA, Frankreich, Kolumbien und den Philippinen wird unter Führung von Prof. Dr. Wolf B. Frommer von der Heinrich-Heine-Universität Düsseldorf (HHU) in den kommenden Jahren an resistenten Pflanzen gegen einen gefährlichen Krankheitserreger beim Reis forschen. Das Projekt wird bis 2021 von der Bill & Melinda Gates Foundation mit sechs Millionen US$ gefördert. (...mehr)
---
Preisverleihung Alexander von Humboldt-Professur 2017
Am 16. Mai 2017 erhielt, als einer von sechs Preisträgern, Prof. Dr. Wolf B. Frommer den höchstdotierten Forschungspreis Deutschlands, die Alexander von Humboldt-Professur. Die Preise überreichte Bundesforschungsministerin Johanna Wanka zusammen mit dem Präsidenten der Humboldt-Stiftung Helmut Schwarz während einer Festveranstaltung in Berlin.
Bundesministerium für Bildung und Forschung
Alexander von Humboldt-Stiftung